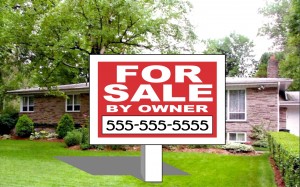 I don't know if the allure of trying to sell one's own property without help from a professional has worn off somewhat, but it seems that, in my neighbourhood at least, the numbers of signs "for sale by owner" seem to have diminished considerably over the last few years.
That being said, many property owners have been, and to some extent still are, attracted by the lure of saving 'thousands of dollars' in real estate agent commissions by going it alone. This has worked for some and still may for others, but the pitfalls of doing this are many and potentially costly. As a mortgage broker, I have attended many FSBO open houses in the past to try and give property owners a helping hand in terms of providing some guidance and information regarding financing potential buyers. In just about every case, the outcome involved bringing in a professional realtor to consummate the deal.
There is a buck for realtors to be made in FSBOs but it has to be handled patiently. Many realtors just refuse to deal with the homeowner of a FSBO and see it as competition.  Better they should embrace it and look on it as an opportunity. Especially in today's market where product is in short supply.
Usually in the beginning, the FSBOs do not want to hear from a Realtor, as typically they are inundated with requests to list their property. This is understandable as there a number of emotions at work here: pride, ego, greed, mistrust etc. So as a mortgage broker, I am not perceived as having an axe to grind in the same way as a realtor, and usually have less difficulty in getting to first base. In general, I wait one week or so and if the house has not sold, then I offer to help.
Usually by the end of a week, maybe two, homeowners have become a little frustrated, impatient, even a bit angry at having to be on call at least 12 hours per day with the house kept in immaculate condition and 'staged'. This is especially difficult if there are small children in the house. Also in these times we live in, sadly, opening your door to an unqualified stranger can be especially dangerous, even lethal.
Once I have gained the homeowner's trust and offered to help out with, for example, attending an 'open house' and still not getting an acceptable offer, they are usually ready to consider bringing in a professional, and at that point, working with a number of local real estate professionals, I am happy to recommend someone whom I trust.  I would be happy to hear from realtors in this regard if I can help. Let's make it a 'win-win' for all!!
Please let me know:
Please provide your Feedback, I would love to hear from readers concerning any experiences regarding FSBOs, both good and bad. Looking forward to your comments!
https://terrygetsmortgages.ca/contact/