With the house-buying season now in full swing, some older parents are embracing the concept of 'giving with warm hands'.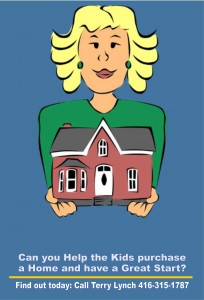 During a recent Global Morning Show, a discussion centred upon parents helping children to acquire a home, in this difficult market. With prices rising rapidly and the down payment conditions becoming more onerous and restrictive, a Reverse Mortgage offers parents a way to both create a down payment, and/or even to purchase a property for their children.
In fact, according to recent statistics, almost 5% of clients aged 55 and over arrange reverse mortgages as a way to gift money to their adult children.
"What we hear from some of our clients is that they want to see their loved ones enjoying the results of their hard work. And so they arrange reverse mortgages and are gifting money to their adult children. And, since we have no gift tax in Canada, it's hugely beneficial," noted a Financial Advisor. "More Canadian seniors are looking to a reverse mortgage as a way to help their adult children when they need it most. They have decided they don't want their children to wait – they want to see them enjoy the money," he added
A Reverse Mortgage is the simplest and most sensible way to turn up to 55% of the value that is locked up in a home into tax-free cash which can be put to use right away!
Total  ownership and control of the home is maintained while enjoying all the benefits of having converted some of its value into cash. For all these reasons, a Reverse Mortgage is a sound financial solution for many people.
You can access money either as a one-time lump sum, or as monthly payments or both – it's tailored to individual needs. Up to 55% of the home's appraised value can be accessed and the money is tax free. Unlike a traditional loan, no payments are necessary until it's time to move or sell the home.
Some recent examples of 'giving with warm hands', include:
An 84-year old Ontario widow gifted her daughter, living abroad, $350,000. The daughter is experiencing tough times due to divorce and her mother provided an early inheritance to help at a time when it is most needed.
A couple living in British Columbia gifted $600,000 to each of their two sons, allowing them to buy their first homes.
A 78-year-old Ontario widower is gifting $100,000 to his two adult children to help with their mortgages.
A Vancouver couple arranged a $325,000 reverse mortgage and allocated: $100,000 for a son going through a divorce; $100,000 for a son looking to grow his prosperous business; and $100,000 for a son with a struggling business. The remaining $25,000 was allocated to a family trip.
Reverse Mortgages are designed exclusively for senior homeowners 55 and older:
You can receive up to 55% of your home's value (determined by appraised value and your age(s)
You receive the money tax-free, since it is a loan so it is not added to your taxable income.
No payments required while you or your spouse live in your home; amount becomes due when you sell.
Your estate is well-protected. You can save on taxes, e.g. if you decide to buy non-registered investments such as GICs or mutual funds.
Accessing some of the value of your home through a Reverse Mortgage may be an option for you. Stay in your home, and access funds to help your children.
Why not start the ball rolling and call or e-mail Terry Lynch today,
Cell:416-315-1787 or
if you qualify, you could have up to 55% of your property's value in your bank account within a very short time.